Embassy Suites by Hilton Mandalay Beach Resort, Oxnard, CA
Social Responsibility
As a Company we strengthen human capital by fostering a corporate culture of Diversity and Inclusion, investing in Health and Well-Being, and maintaining Responsible Labor Practices.
2022 Castell Award winner, Leslie Hale
Diversity and Inclusion
Our associates and board of trustees are comprised of highly diverse individuals across gender, race, and age. Among our Board of Trustees 33% represent women and 56% represent ethnic minorities, including our President and Chief Executive Officer, who is an African American woman. Additionally, 56% of our associates are ethnically diverse, and 52% of our associates are women.1 The diversity in our workforce is a testament to our corporate culture of inclusivity at all levels of our organization.
At RLJ, we recognize that there is potential for discrimination to arise in a number of business processes, including recruitment, remuneration, performance assessment and advancement. We stand against discrimination in all its forms, including but not limited to race, color, sex, religion, political opinion, national extraction, social origin, age, disability, HIV/AIDS status and sexual orientation. We are committed to both anti-racism and a workplace free of discrimination at all levels of our organization, and this commitment is reinforced by our Chief Executive Officer. As such, we take a proactive approach to eliminating discrimination across our Company, from our Board to our associates and our vendors. Key highlights from our proactive approach include:
Conducting regular training on "Creating a Respectful Workplace" which focuses on discrimination and harassment awareness
Holding a regular discussion series called "Conversations in Courage" to encourage associates to discuss issues related to racial unrest and diversity
Leveraging a diverse slate of candidates for all job vacancies, including senior management
Providing access to skills development training for all associates, which encourages them to progress within the Company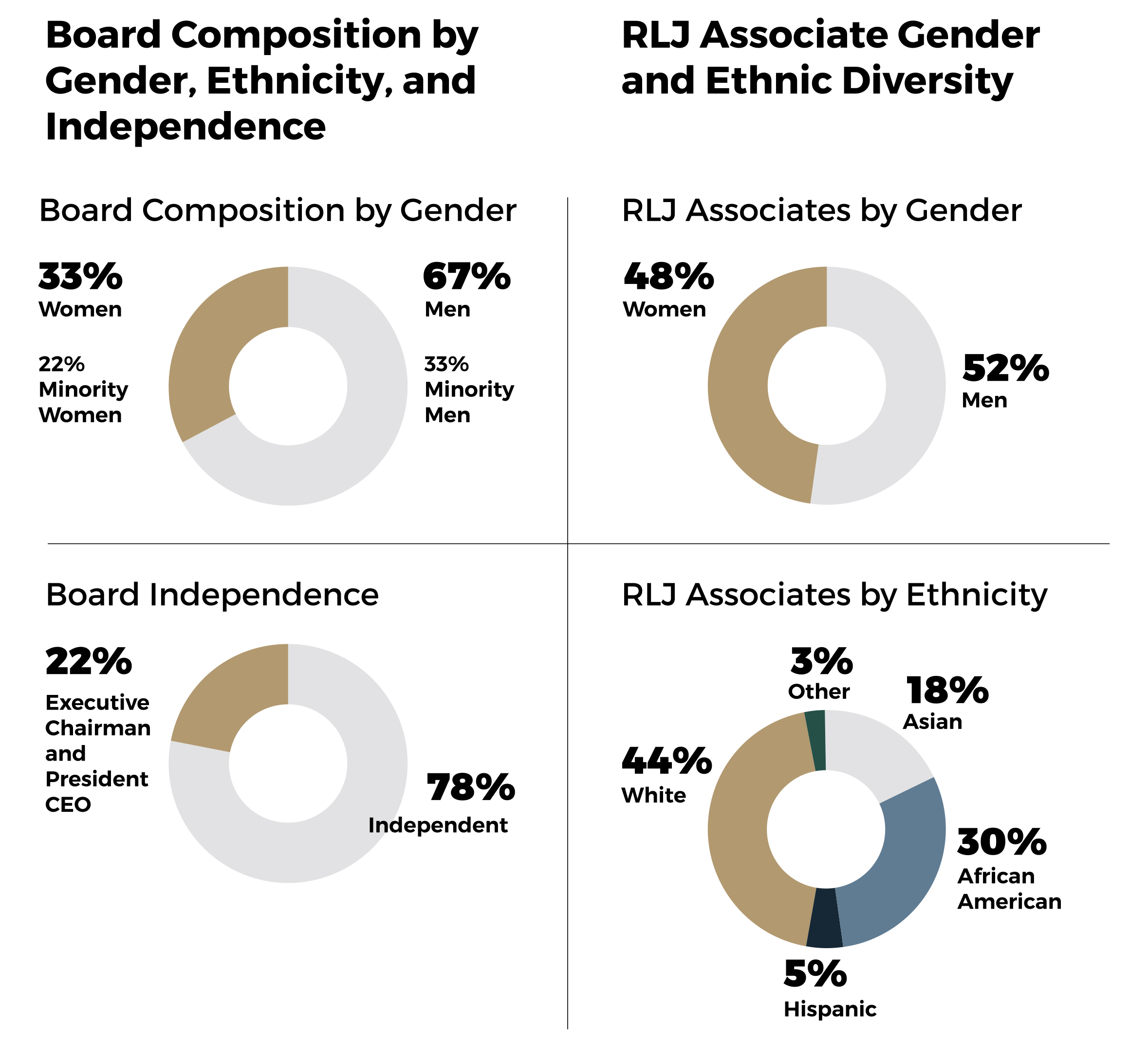 In addition, we support several organizations committed to the empowerment and advancement of women and racial minorities in the business environment through active membership and donations. We especially focus on organizations in the real estate, hospitality and finance industries, including:
The National Association of Black Hotel Owners and Operators

The Robert Toigo Foundation, whose mission is to transform forward-thinking organizations through education and strategies that drive greater inclusion and the ongoing development and promotion of exceptional, diverse leaders

The Commercial Real Estate Women's Network (CREW), whose mission is to transform the real estate industry by advancing women globally.
Health and Well-Being
The impact of the COVID-19 pandemic on the global economy, the U.S., and the local communities where our hotels are located has been significant. However, RLJ is exceptionally well-positioned to navigate this period of uncertainty. In addition to the tremendous efforts we are making to mitigate the ongoing operational and financial impacts on our hotels from the pandemic, we are also taking aggressive steps to protect the health and well-being of our associates, customers and the employees of our third-party management companies. At a minimum, we adhere to the AHLA Safe Stay® initiative focused on enhanced hotel cleaning practices, social interactions and workplace protocols required to address the challenges and new expectations presented by the COVID-19 pandemic. We support our third-party hotel management companies by integrating these policies and procedures into hotel operations.
Our response to the impacts of COVID-19 builds on our longstanding commitment to the health and well-being of both our associates and guests. We have previously committed to initiatives that support associate well-being, including the AHLA 5-Star Promise – a voluntary, industry pledge to improve and promote workplace safety around sexual violence, assault and human trafficking. We are also committed to supporting our third-party management companies with integrating the 5-Star Promise principles throughout their hotel operations.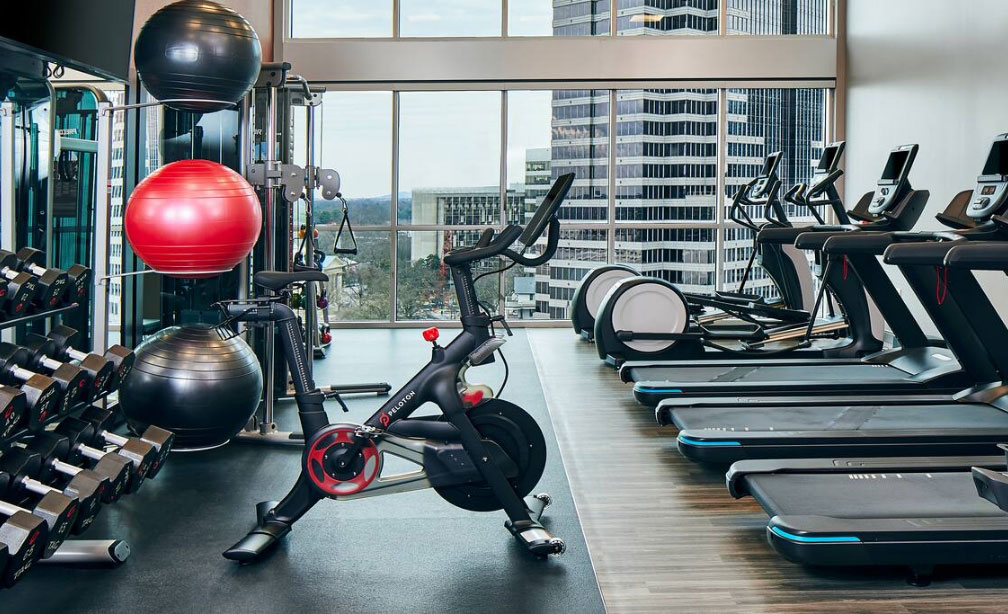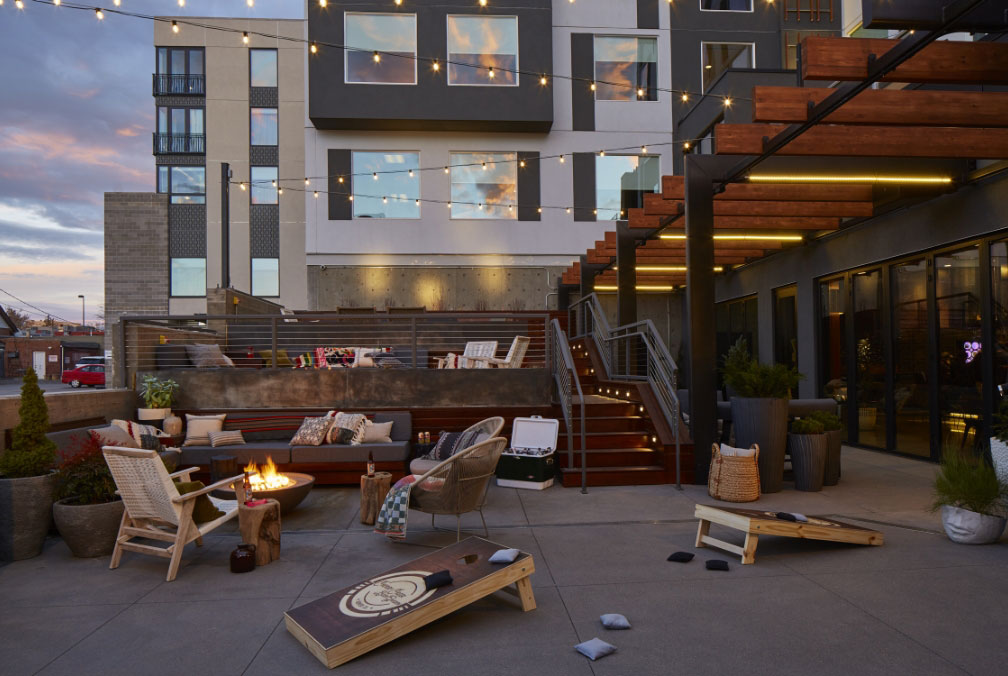 Responsible Labor Practices
Our Company complies with all federal, state and local ordinances and regulations regarding labor and employment. Our third-party management companies are responsible for hiring and maintaining the labor force at each of our hotels. Although we do not directly employ or manage the workers at our hotels, we promote regulatory compliance, particularly related to labor, to our third-party management companies and other vendors and partners. In 2021, we implemented an enhanced policy focused on labor and human rights, as a commitment to upholding the highest ethical standards across these important social issues.
1 As of year-end 2020.